Midget Girls
Cadet Girls
Sub-Junior Girls
Junior Girls
Youth Girls
Women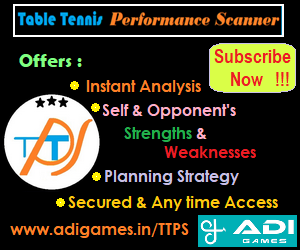 2nd Thane District Ranking TT Tournament
(08-Jul-2022 to 11-Jul-2022)
Sponsered by
:
Organised by
: TDTTA
Venue
: Shree Mavali Mandal, opp. MTNL Charai, Thane (W).
Select Event
* Important Note * - Results can be viewed for Registered Players only.
Registered players can view their results for those matches played after Registration.

Midget Boys
Cadet Boys
Sub-Junior Boys
Junior Boys
Youth Boys
Men